Fight the Good Fight of Faith. Take hold of the eternal life to which you were called when
you made your good confession in the presence of many witnesses 1 Timothy 6:12 NIV
Welcome to the Soldier of the Cross Award. This award will be given to a narrow range of sites. If you think that you fit the listed requirements, just fill out the evaluation form below. We will then visit your site, usually within the week. If you are a Soldier of the Cross winner, we will get back to you and inform you of your acceptance. If after two weeks you do not hear from us, just resubmit your site for reevaluation!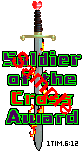 Requirements for acceptance:

1. You must read, and agree with our Statement of Faith. (Points that do not affect the believers salvation most likely will not affect the evaluation, i.e. The Rapture, etc.)
2. The Site presented must be either Christian or Messianic. And this in the spirit of the whole word of God. If there is any question whether the site lines up with God's Word in the Holy Scripture, it will not be awarded.
3. The site must be a Ministry, Church, Congregation, Evangelistic Organization, or a site connected with a Church or Ministry. We no longer accept personal pages.
3. * (We are currently accepting all applicants)
4. The site must be for the Lord Jesus Christ, not against this person or idea, not against that Christian/Messianic faith, but edifying the body of believers and drawing the lost with love, not hatred. (it is ok of course to be against sin, just not people. For we battle not against flesh and blood. (We will be looking for unity, not division)
5. We will be looking for Bold, and Doctrinally Sound Statements of Faith so that there is no question what kind of site that it is.
6. Also, we will be looking for links to other Christian/Messianic sites. It is ok to have secular links, but not to anything that would be against the will of God, i.e. adult, new age, occult, etc.
7. We ask that if your site ever change in content or concept that you notify us for a reevaluation. If we ever check back to your site, which we do periodically, and find that it no longer meets the requirements it was awarded by, we will request removal of the award to preserve the integrity of the award, and our Ministry. ( Not to worry: Just stay on fire for the Lord and promote unity in the body)
8. We feel that it is quite important for you to have a Salvation and Decision message on the submitted site somewhere. After all, we are all in the Ministry for saving souls. In Matthew 28:19-20 the Lord Himself commanded us to go and make disciples of all nations. As Christian/Messianic believers, we are to fulfill the Great Commission. Remember to tell them the "Good News" that Jesus loves them!
Be a true "Soldier of the Cross."

When you have won, you will be notified by Email and given a URL to pick up your award at. If for some reason you do not win an award and you wish to know the reason, just Email us and we will explain the reason, i.e. No salvation message, adult links found, no statement of faith, etc. Don't get discouraged. Some of the reasons are just oversight on ones part. In any event, just remember that you have won the greatest award of all; the gift of salvation.

* In the past, we have had so many submissions from "Personal" pages that we were concentrating more on evaluations than we were in evangelism. We will never let that happen again. Our main thrust has, and always will be on evangelizing the lost for our Lord Jesus Christ.



Unable to use the Form? E-MAIL US



We have separated the past listings for your browsing convenience. Please visit these wonderful sites.

| Return To Main Page | Churches, Ministries, & Radio Stations | Present - September 98 |
| August - October 97 | November 97 - January 98 | February - April 98 | May - August 98 |



---
Soldier of the Cross Award
ęCopyright 1997-2002, All Rights Reserved